Whitmore Lake Tavern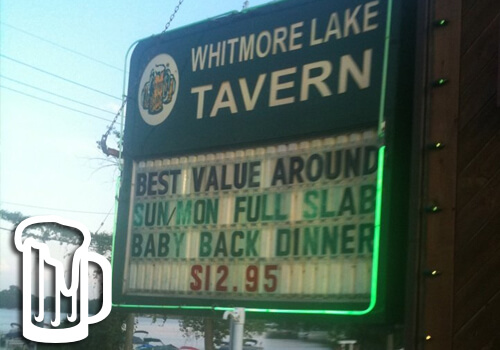 Have you had the pleasure of checking out Whitmore Lake Tavern in the Northfield Township area just yet? If not, why not add it to your itinerary for your upcoming Ann Arbor Party Buses trip? It will definitely give you something to look forward to! This is a really impressive place in the bar and diner category, offering up one of the least expensive dining and drinking options in town, and yet one of the very best. The fact that it's located right on the water is a major perk. In the summer months you will be able to relax while you watch the sailboats breeze by, and in the winter you'll have a cool view of the ice fishers doing their thing! Very cool. The perfect pizza is probably our top recommendation on the menu and you cannot go wrong with any of the ice cold beers on the menu alongside that. This is our official pizza-and-a-beer joint in the Northfield Township area and our Ann Arbor Party Buses customers clearly agree! For your bigger groups, multiple pitchers of beer are in order. Affordable and smart! Full bar, outdoor seating, and even karaoke! We just love it here! Find this one at 9839 Main St, Whitmore Lake, MI 48189 and you can find it at phone number (734) 449-5011.
Ashley's Pub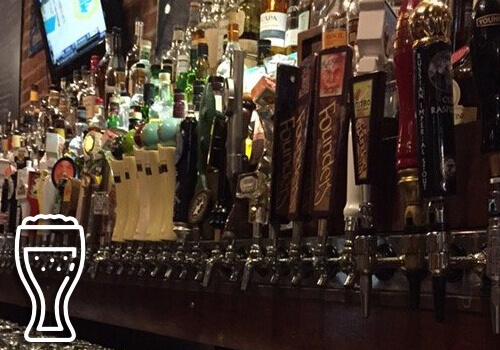 Very conveniently located for our Ann Arbor Party Buses customers in the Northfield Township area, Ashley's Pub is absolutely one of the very best bars and restaurants that you could ever choose to visit. We are talking about one of the absolute biggest beer selections in Michigan, comprised of brews from all over the world, both in bottles and on tap. The hipster dive bar vibe is just superb, but the real magic is in the high quality service that makes you feel like you are somebody special and not just one of many customers. The prices are quite affordable for all the food and most of the beers, but they do offer a few more upscale options like steamed Belgian mussels and rare Trappist beers that are well worth the premium prices. The Stilton fries are superb and we love the pizzas as well as the fish and chips. They're open until 2 every single night except Sundays when they're only open until midnight. This is by far one of the very best places around and we'd travel miles and miles to go there ourselves! Point your Ann Arbor Party Buses chauffeur there and discover it for yourself! Find it at 338 S State St, Ann Arbor, MI 48104 and call them up at phone number (734) 996-9191.
Casey's Tavern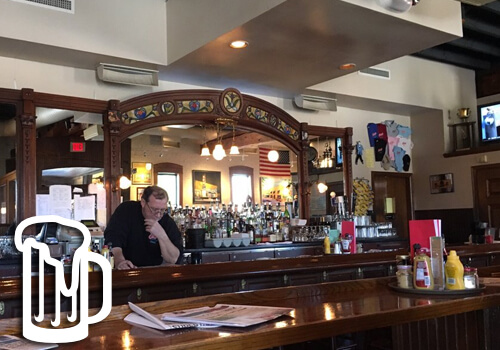 Another wonderful pub where you can enjoy hanging out with your Ann Arbor Party Buses group in the Northfield Township area is Casey's Tavern. This is a very popular one with the local college students but there's still a good mix of ages and demographics here, so everyone feels right at home. We absolutely love the spicy hamburgers with jalapeno peppers and jack cheese. We're also huge fans of the meatless joe which is comprised of beans and lentils and served on cheddar cornbread. Talk about delectable! Don't skip the onion rings as they are generously sized and packed with flavor just like they used to be back in the day. The beer selection is great here too and it's always nice and icy cold. The hours leave a little to be desired here... only open until 11 most nights and closed completely on Sundays! Still, worth the effort to be there when they're open. The best nights are Tuesday, Wednesday, and Thursday, and you can't go wrong if you're there for happy hour! Great prices and wonderful service. What more can we say? Find this one at 304 Depot St, Ann Arbor, MI 48104 and call them at phone number (734) 665-6775.