Common Grill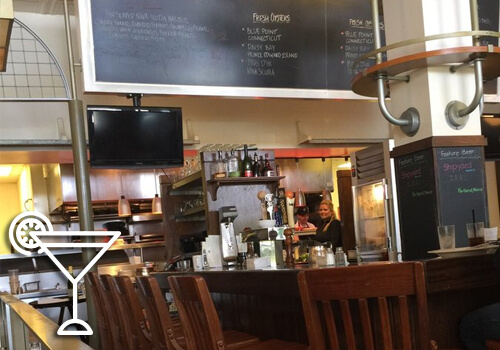 Common Grill is anything but! All of our party hopping customers in the Chelsea area have remarked that this is one of the most special places to visit when they're around here. They specialize in amazing seafood and though it can be a bit pricey, it's worth every single penny. They recently remodelled the interior, making it one huge open space that's just ideal for party bus groups, and you will adore the old fashioned tin ceilings here. You'll certainly want to start off with their famous lobster spring rolls before diving into some yummy crab cakes. The perch is a really good choice and we're also big fans of the walleye. The seafood risotto is something that can only be described as pure comfort food. We should also mention the paella, which is a heavenly dish of epic proportions, and the shrimp and lobster fettuccine is also something that you must try. The ambiance is great here, very lively and loud with good conversation happening at every table. You really feel like you're a part of the nightlife when you're dining here. TVs for the game, a full bar for your drinking needs, and they accept credit cards. You can find this one at 112 S Main St, Chelsea, MI 48118 and you can reach them at phone number (734) 475-0470.
Chelsea Alehouse Brewery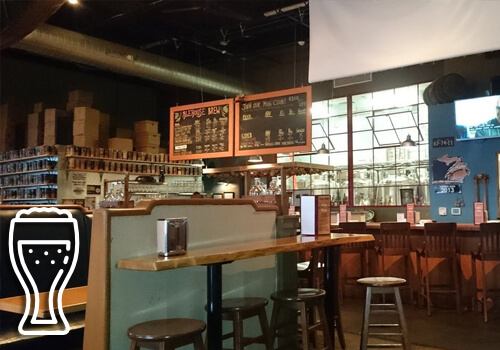 Chelsea Alehouse Brewery is a really smart one for our Ann Arbor Party Buses customers to enjoy. This is a cool, modern, friendly bar that is relatively new on the scene. They've got a bit of an industrial feel going on here, with local artwork strategically placed to brighten things up and bring in a little life. In the daytime, it's very all-ages friendly here, and just fine for families with kids. We love the flights which include an array of their beers, expertly chosen on the day. When we were there, they offered up a session ale, an oatmeal stout, an IPA, a black IPA, and a rye. Very nice for sharing with your group and getting a little taste of everything! There aren't any televisions here, so this is not a sports bar in any capacity. It's not a full bar either, preferring to stick to their own brews, and we appreciate it that way! Nice music but no dancing. They're open decently late here most nights, til 9 on Sundays, til 11 through the week, and til midnight on Fridays and Saturdays. Keep that in mind when you plan to bar hop until 2AM, because you'll want to make your stop at CAB a tad earlier! Whether you're dining in or picking up take-out to enjoy on the bus, you'll love this one! Located at 420 N Main St, Chelsea, MI 48118 and easily reached at phone number (734) 433-5500.
Stiver's Restaurant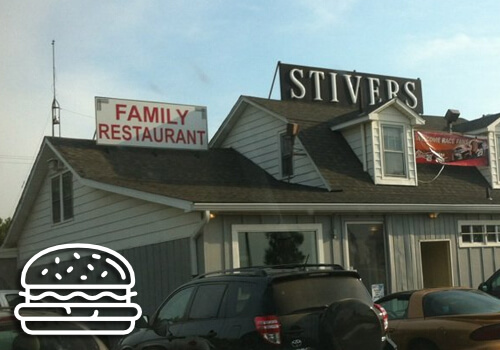 Stivers happens to be one of the cheapest places that you can dine and drink in the Chelsea area, and our customers who are already spending money for their trip can certainly appreciate the lower prices here! And they don't skimp on quality. The prime rib is one of our favorite things to indulge in here, just so rich and flavorful. That's only available on the weekends and it's worth timing your visit accordingly! On Fridays, they have all you can eat perch too. Very nice. Any other day of the week, you cannot go wrong with a jumbo half pound burger and their potato skins. Mmm! Our favorite. The sweet potato fries are also really good. For dessert, the pies are where it's at! The warmed blueberry pie with whipped cream is the way to go, if you ask us. They also have great rice pudding from time to time. The karaoke nights are an absolute blast and that's the prime time that we recommend you come in. They're open til 11:30 on Sundays, til 12 through the week, and til 2 on Fridays and Saturdays, making it a great late night destination for the weekend! We're just so impressed with everything here! Easy to pop into this one at 11 S Fletcher Rd, Chelsea, MI 48118 and you can call them up at phone number (734) 475-3610.